SMART IT provides the most powerful available leverage to increase profitability in nearly all businesses.
Technology for technology's sake is all too common.  Too much focus on hardware and software and not enough focus on what these systems can do for your business creates confusion, waste and higher costs. To harness the power of IT for the benefit of your business, we assess your business needs and match them to the best IT configuration using the CompNet Audit process and Brainstorming sessions.  The result is higher productivity, lower costs and greater confidence.
We know there are only three key areas that IT should be focused on to create more profit and enjoyment in your business. The AUDIT process focuses on these ten core challenges.
We call them :
A – Productivity and Efficiencies
We solve the issues in these four areas:
Marketing and client communication. eg we can track all client and staff communications, throughout the data base, including newsletter, inter staff memos, promotions, client action histories.
Staff and internal communication eg memos, reviews, action, email systems
Suppliers and stock control. We create more flexible and transparent data bases
Billing and accounts.We reduce duplication and integrate systems. Eg We integrate sales systems into accounting software
B – Bottlenecks
We improve efficiencies by reducing expensive time wasting and frustrating emotional friction caused by poor systems and services. This repairs poor moral, inefficiencies and reduced profitability. We can rationalise :
System Limits. Number of users, system resources, capacity of the network and remote access.
Time. Improve Speed and efficiency of network design.
Cost. Reduce Failures and efficiency of network design.
C -Security and Safety
The audit diagnostic will expose weaknesses in the security of your IT systems. We will be able to integrate CompNet's SMART Systems to monitor all:
Security issues
Security failures and
inappropriate use.
This will Make your whole business significantly safer, more secure and save money.
How does your business fit in the Efficiency Model?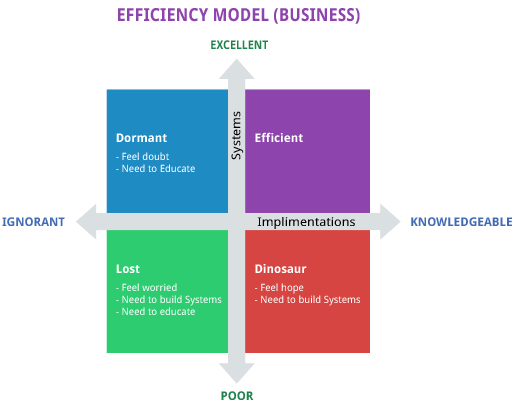 How do your staff fit in the Productivity Model?